OUR Certificates
Certification
The Board of Directors of SICON OIL & GAS, has constantly enforced a perpetual audit of HSE and Quality systems, enabling the management in its commitment to high standards.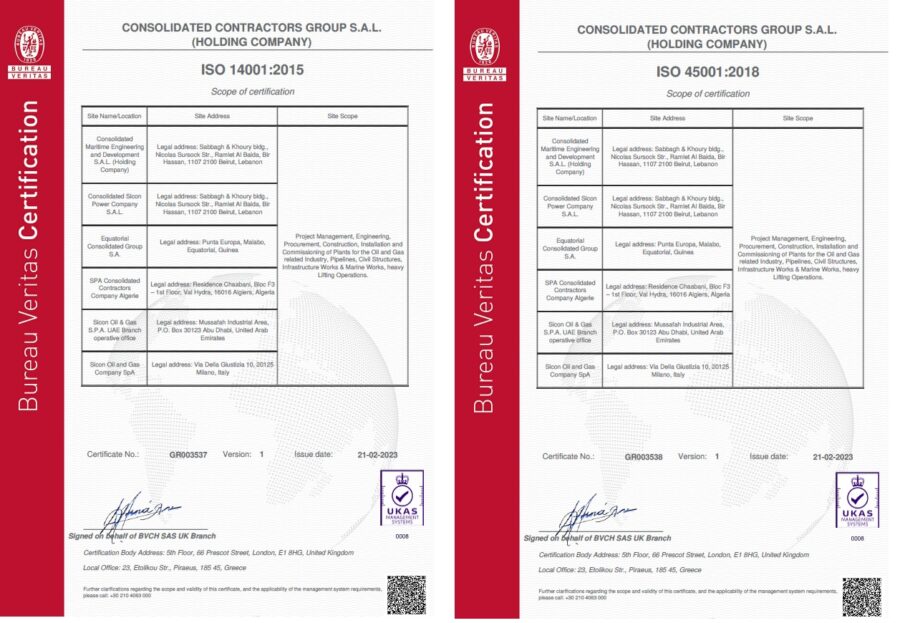 ISO 14001 for environment and ISO 45001 for Health & Safety
The core concept of HSE promotion is derived from CCC Group certification by Bureau Veritas of ISO 14001 for environment and ISO 45001 for health & safety.
SICON OIL & GAS recognizes the importance of health and safety for its employees, as well as the general public, remaining vigilant in environmental protection and the prevention of property damage in its operating locations.It respects local cultures throughout its diverse operating locations and upholds high business values.
SICON OIL & GAS strives to fulfill its responsibilities to its employees and the public by continuously working to improve its ability to offer services and products which create healthy work spaces and respect the environment.
SICON OIL & GAS considers the promotion of health and safety for its employees to be a key contribution to promoting sustainable development and an integral component of success
SICON OIL & GAS is certified by Bureau Veritas (BV) as per the latest ISO 9001 Quality Standards
for Design, Engineering, Procurement, Supply, Project Management and Construction, Installation, Commissioning, Start up and for Oil & Gas plants, Oil, Gas and Water Pipelines and Water Treatment Plants.
Sicon Oil & Gas Top Management is committed to the following objectives: understanding and meeting the Customer requirements, fulfilment of contract obligations and all technical and economic requirements (safety, quality, delivery time and costs) to meet Customer satisfaction compliance with the statutory and regulatory requirements (standards and Codes in force in the country of destination) achievement of the specified quality performances recognizing the importance of human resources and increasing their competence, involvement and motivation. The Management is also committed in continually improving the effectiveness of the Quality Management System and the implementation of lesson learned records.